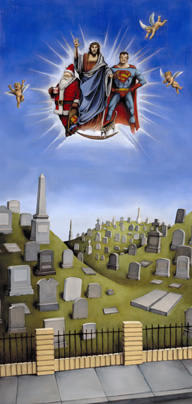 This makes so much sense that it should disturb you if you're wandering around with some notion of moderate or 'modern' faith.
If The Trinity was altered thusly I would find myself saying, "At least they're honest about their cartoon hero worship."
Not that I'd respect your faith anymore than I do now, but it would at least have a decent internal consistency.
This vision is a grand synthesis that borders on the sublime. Like good art it inspires those who come in contact with it and as my gift to you, I'll share my inspiration with you.
When I first looked at this picture, I thought, "Wow, now that is a new low." Then I thought, "no... it actually makes perfect sense". Our society IS fueled by rote consumerism, a veneer of bootstrapped, externally enforced morality and the idea that our truth, justice and American way is mighty and invulnerable.
Then I noticed what this tripartite 'sun' was presiding over, a cemetery, and I was in love. The symbolism kicks you in the head like a donkey filled shotgun.
Let me give it to you:
The 'sun' of empty materialism, moralism and might cannot sustain the human race. If we continue to lay prostrate before our sun god, we shall come to enjoy the fruit of our devotion...
Extinction.